I've been slacking on my little efforts to change the world. Today, I'm revisiting an old one because of this picture...
The UNICEF blogger wrote, "It's easy to forget that these figures are someone's family members." And they are so right. So please
donate now to help children affected by the Philippines floods
.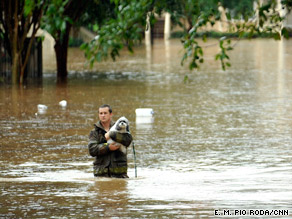 And I don't want to leave out the family here in our own backyard. This week...donate to some place that is helping the flooded residents of Georgia.
Kroger supermarkets are asking customers to help victims of recent flooding by donating money to assist the Salvation Army Georgia Division in providing food, water, clothes, cleaning supplies and other necessities to flood victims.

Customers can give money to benefit the flood victims by "rounding up" their Kroger purchases to the nearest dollar through Saturday. Customers also can make donations at any Kroger in Georgia.
Online Athens
According to the United Way of Metropolitan Atlanta, Faith in Action is taking items such as washers, dryers, refrigerators, sofas, dressers, microwaves, TVs, kitchen tables and chairs, mattresses and box springs that are gently used and in good working order.

Call 770-833-7236
or e-mail gafaithinaction
@aol.com.

West Ridge Church in Dallas is accepting donations of furniture and other household items; call 770-222-2125 ext. 308 or e-mail brittneyf@westridge.com.

For up-to-date information on ways to support flood victims or to find help, call the United Way by dialing 2-1-1 or calling 404-614-1000.

The Furniture Bank of Metro Atlanta also accepts household furniture in good condition.

Call 404-355-8530 ext. 222 or e-mail ddicaprio@furniturebankatlanta.org to arrange a drop off of furniture or a free pickup.
ajc.com