#30
Fighting malnutrition in Guatemala with "Sprinkles" :: U.S. Fund for UNICEF - UNICEF USA
Posted using
ShareThis
#29
Debra's Garden US Needle Gauge Pendant for Animal Rescue
.
LOVE IT!
#28
Hi, I just dedicated a page to my Aunt & Uncle, Jonette & Harold Boggs at LIVESTRONG Action.
This page is a part of the world's largest dedication book that LIVESTRONG Action will use to pressure world leaders to do more to fight cancer.
Can you add your name to my dedication page? It'll only take a second, it doesn't cost a dime, and you can help me reach my target of 25 dedications.
Please sign
HERE
.
Thanks!
#27
After taking a week off for the holiday, I had this all set and ready to go...and then I forgot to post it. oops!
I've been dealing with something relatively big lately and I'm ready to talk about it a little bit now.
Those of you who pay attention to my blogroll may have noticed I have added a bunch of "gluten free blogs." It's a not-too-interesting story how it all came about, but the gist is, I am now eating a gluten free diet because I think I may suffer from Celiac disease.
See...I've watched my mother struggle with "weird" symptoms all my life. It seems as though she's had one diagnosis after another, without any of them really "fitting."
And then things started to get weird for me. I started having strange symptoms just before I became pregnant with Myles that have continued to really bother me. My hair falls out by the handful...I can't concentrate on anything...I feel sick whenever I eat...I have pain in my joints...I am so anemic I couldn't give blood...I have repeatedly tested high white blood cell counts for no reason...I have this weird, non-spreading ITCHY rash on my right hand and inside my elbow on my left arm.
One day, I happened upon
this post
and I was compelled to read every word Shauna has written. She is an amazing writer and I <3 her blog. But more importantly as it relates to this story, her blog raised my curiosity about Celiac disease...gluten intolerance...heck...GLUTEN. I had some vague recollection of these words, but never really paid them any attention.
And then I read
the list of symptoms
. Pretty generalized list...could be just about any other illness. In fact, Celiac is often misdiagnosed as a host of other illnesses with similar symptoms. Something clicked into place when I read the symptom of "Skin disorders (dermatitis herpetiformis)." I Googled and...well...found myself staring back at me.
Yep...I initially thought it was poison ivy (I'm highly allergic and have pets that do go outdoors). Then when it didn't go away, I thought I was allergic to my crochet hooks and changed to "natural" hooks. But that still didn't seem to fix the problem. And the itch...I can not describe to you what this is like. I have never experienced an itch like this. Oh wait...yes, I have...and I have the blog entries to prove it (I won't bore you with the links). After reading through my archives, I noted that I've been getting the SAME rash in the SAME spot for the last THREE YEARS now...and I chalked it up to poison ivy each and every time. Three years running...SAME SPOT. I mean, really...do I need someone to club me upside the head with an obvious stick?
So now that I've self-diagnosed...maybe I should see a doctor, right? Well...not necessarily...
The current prevailing theory is that if you have DH, you have Celiac. Of course, the only way to definitively diagnose is with intestinal biopsy. You may be able to diagnose with skin biopsy near your rash area, but still...BIOPSY...a word I'm not such a big fan of in the theoretical sense (and I'm sure I would be even less of a fan of in actual practice). AND...the only way to treat Celiac is to eat gluten free. That's it. Something I could do on my own without having to be poked and prodded.
So...I tried it. And guess what? Yep. No more itchy. And I FEEL AMAZING!
I've now been mostly gluten free for about a month. The few times I've slipped (pizza is a big weakness for me), I have paid for it with an intensely itchy outbreak three days later. I've only recently sworn off even the occasional pizza after an encounter with Pizza Hut. Seriously thought I might have to cut my hand off in order to get some relief.
Here's the thing...it's not just that the itch is gone. My brain is clear and I can function again. Focus. Accomplish things I really want to accomplish. My whole life I have never had a good memory. People talk about memories they have from years back (at which I was reportedly present) and it was like I wasn't even there. There was a big blank. Heck, a lot of time, I couldn't even remember yesterday. Lately, I've blamed grief and/or possibly depression, but when I really think about it I have to admit that I've always been this way. Finding it could be due to something as simple as what I was eating...it was a relief and a serious blow all at the same time. You see...I love food. I love all types of food. How in the world was I going to do this forever if this was, in fact, my problem?
Thank goodness for the internet and a heightened awareness in our society of food induced reactions (autoimmune and allergic). It's actually been wonderful. Yes, it's somewhat difficult because I can't just absentmindedly grab something to eat anymore. But the results have been SOOOO worth it. And, like most things in life these days, there are blogs...and webpages...and people to talk to for support. This past weekend I found a support group for Erie, PA, and they told me that
Boston's
has a new gluten free pizza. So we took a little trip and it was pizza...REAL pizza...and it was good! And there is gluten free beer...and it's GOOD TOO!
I'm sure there will be commenters who question and/or criticize. Maybe it IS all in my head. But honestly, I don't care if it's all in my head because my itch is gone and I am so incredibly happy about it that I don't care that common sense seems to have left the building. Whatever. I'll take it.
So...my good cause for this week is
The Celiac Disease Foundation
. Why? Because their website has been an amazing source of information for me and I respect their work in raising awareness.
That's it. My current life "issue." Not the first...not the last (with any luck)...and not very exciting. My next entries will be crafty, I think...just for counterbalance on the 'interesting' meter.
#26
This one is a little bit different...but the concept is very simple.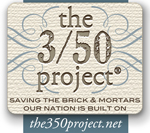 Pick 3 independently owned local businesses you couldn't live without in your town.
Shop there and spend $50/month.
Save your local economy by investing your money in your local economy.
#25
I am late with last week's charitable effort. So I'll just post TWO this week. One now and one Friday/Saturday. OK? OK.
I was walking through the mall last weekend when
this bracelet
caught my eye. Mr. Umholtz,
JB Robinson Jewelers
, kindly took it out of the case and let me try it on. He didn't have much more information than what was on the card...With the purchase of the Green Bracelet, $20 or more goes back to Africa to support educational programs where diamonds are a natural resource.
I was intrigued so I looked it up online and found the maker of the bracelet is the Simmons Jewelry Company...the company of the hip-hop celebrity Russell Simmons and model(?) Kimora Lee Simmons (I'll be honest...I only recognize her from
Celebrity Baby Blog
). And the bracelet is the first in their "Green Initiative," benefitting the Diamond Empowerment Fund (D.E.F.).
Here
is a little article about the effort to boost economic development in Africa and provide "conflict free" diamonds in the world market. This is apparently something that has been ongoing since
2006/2007
...but we live in the boonies and things are slow to reach us.
It's a little higher price, so it's a good thing to look at for special gift occasions. I told Steve it would be a lovely gift for our upcoming anniversary...15 years (wow!).
#24
Jewish World Watch
, in association with
Solar Cookers International
, the Dutch NGO
KoZon Foundation
, and the Chadian NGO Tchad Solaire, has successfully realized the
The Solar Cooker Project
in Chadian refugee camps Iridimi and Touloum.
Jewish World Watch is committed to protecting refugee women and girls from rape and other egregious forms of violence. Women and girls who have fled the genocide in Darfur, a region of Sudan, are particularly vulnerable to rape while performing the critical task of collecting firewood for cooking. Our mission is to reduce the frequency of these heinous crimes by providing women in refugee camps with an alternative cooking option: the solar cooker. Solar cookers enable women to remain within the relative safety of the camp by reducing their dependency on wood.

The Solar Cooker Project not only serves to protect women, but also provides them with income opportunities through manufacturing solar cookers, training others to use the cookers, and making carrying bags to increase the cookers' life span. It gives the women a sense of pride to be able to contribute to their household. This project has been successfully realized in the Iridimi and Touloum refugee camps and is now in the Oure Cassoni camp. Jewish World Watch plans to initiate this project in other camps with the goal of reducing the number of crimes committed against refugee women.
$30 SOLAR COOKER Donation
Provides:
* 2 Solar Cookers per family
* 2 Pots
* 2 Pot Holders
* Year supply of plastic bags
* Skills Training for refugee women and girls
#23
Maybe I'm getting older and nostalgia is settling in my bones, but I think childhood summer vacation is something we should work to achieve for everyone.
Every year, The Fresh Air Fund gives thousands of inner-city children the priceless gift of fun – and opens the door to a lifetime of opportunities.

Whether its a two-week trip to the country to visit a volunteer host family, or a fun-filled and educational stay at one of our camps, our programs make for unforgettable memories – and open a world of new friendships and fresh possibilities.

We are a not-for-profit agency and depend on tax-deductible donations from people like you to keep our vital programs flourishing.

Right now, any gift you make to The Fresh Air Fund will be matched dollar for dollar by a group of generous donors. If you can give $25, that means $50 for inner-city children. $50 becomes $100!

But you must make your donation by June 30th to take advantage of this wonderful opportunity.
Fresh Air Fund
#22
I've been saving both of these foot-related charities for Barefoot Week, which is June 1-7! I personally love being barefoot. But I am very lucky and have a choice.
Soles 4 Souls
"We want to invite people to join hundreds of thousands of Soles4Souls supporters around the world in participating in Barefoot Week," said Wayne Elsey, Founder & CEO of Nashville-based Soles4Souls. "Anyone can make an important difference to someone in need by starting their own shoe drive, cleaning out their closet, sending us a new pair of shoes or making a simple cash donation. Our charity thrives on the active involvement of everyday people making the decision to step up and help less fortunate people, both here in the United States and around the world," he said.

Celebrities are also lending their support of Barefoot Week in hopes of encouraging more participation with the charity's programs. Scarlett Johansson, who previously donated 2000 pairs of new shoes from her own line of Reebok footwear, is lending her name to help raise publicity about Barefoot Week. Other celebrities, such as Antawn Jamison, Jessica Simpson, Brittany Snow, Kellie Pickler, Luke Perry, Riddick Bowe, Arnold Palmer, Tom Watson, Amy Grant, Vince Gill, Chris Hope, Jeff Fisher and Tim Dunn have also voiced their support for the weeklong series of events.

The charity will be handing out a total of 50,000 new shoes to homeless youth and families in need in five U.S. cities: Indianapolis (June 1st), Atlanta (June 2nd), Birmingham (June 3rd), Los Angeles (June 4th and 6th) and Portland (June 5th).
Samaritan's Feet
Samaritan's Feet is a non-profit organization dedicated to changing lives though Shoes of Hope distributions around the world. 300 million people wake up each morning without a pair of shoes to protect their feet from injury and disease. The goal of Samaritan's Feet is to provide shoes to 10 million of these individuals in the next 10 years by teaching them a biblical story of faith, hope, and love, demonstrating those truths in touching them by washing their feet, and treating them to a new pair of shoes and socks.
From
Herald Online
Actor Jack Nicholson sent a dozen sneakers and some of his dress shoes after hearing about Samaritan's Feet from his beloved Los Angeles Lakers.

Musicians in the Indianapolis Symphony Orchestra performed a concert in their bare feet. Indiana Gov. Mitch Daniels held a barefoot news conference.

This month, South Carolina Lt. Gov.Andre Bauer presided over the state Senate in his bare feet to promote the upcoming state project.
Shoes...it just seems so simple.
#21
First we begin with a sincere "thank you" for your support of Noah's Wish, we truly appreciate your help; without your on-going assistance, we would find it difficult to help animals affected by disasters.
Given the current economic climate, we know that everyone is looking for the best bargain or some fun and/or entertainment when they spend. With that in mind, we have several innovative fundraising events scheduled for this spring and summer that you may find of interest:
Starting today, May 22, 2009, the Noah's Wish Art and Book auction begins on eBay. There will be 60 items available to the highest bidder. We have a number of original pieces of artwork and author autographed books that will be sold to the highest bidders.
The auction runs from May 22 through May 31st, take a look at what's available and bid on those that strike your fancy!
In addition, we will conduct our annual Pet Photo Contest beginning in August. This is where you enter your favorite pet photo for a nominal entry fee and encourage friends and family to vote for the photo. The picture receiving the highest number of votes wins the grand prize! Information regarding the contest will be posted on our website in early August.
Once again, thank you for your continued support.
Please note: Noah's Wish respects the privacy of our donors/volunteers and does not share or sell its mailing lists.
#20
Bid on a celebrity-designed baby blanket at the
Bundled In Hope
auction on ebay and help provide blankets for babies in need.
A partnership of
Toys R Us
(our favorite store) and
Save the Children
(one of our favorite charities).
All cash donated at Toys"R"Us and Babies"R"Us stores nationwide, online at Toysrus.com/BundledinHope, and through our baby registry fundraising program, along with 100% of all winning bids from the auction of blankets designed by celebrity moms, will be directed to Save the Children as part of the Bundled in Hope campaign.

Save the Children will use funds to purchase baby blankets for children in the most impoverished parts of the United States – such as Appalachia, the Mississippi River Delta, the Gulf Coast, and California's Central Valley – and provide ongoing support in these regions through a comprehensive early childhood development program.

The program kicked off in conjunction with Mother's Day and continues through July 11.
#19
OK...today I'm not about ONE charity. Today I'm all about Mom.
GlobalGiving.com is hosting a "Mom Knows Best" celebration.
Show her what you learned by supporting a mom-approved project, and share a lesson you learned from her.
A list of Mom-approved projects can be found
here
.
Pick any one...as little as $10 can make a big difference somewhere in this world.
Make a donation.
Make Mom proud.
#18
The mission of Dress for Success is to promote the economic independence of disadvantaged women by providing professional attire, a network of support and the career development tools to help women thrive in work and in life.
Something I only recently learned about Dress for Success...
To meet the need for services that would help women both find and keep jobs, we established the Professional Women's Group (PWG) program, which offers women ongoing support as they successfully transition into the workforce, build thriving careers and prosper in the mainstream workplace. Once a woman joins the PWG she is a member for life, able to attend meetings at any affiliate throughout the world, and can benefit from additional employment retention and mentoring programs.

Dress for Success also has developed Career Center, an initiative that promotes confidence and professionalism by providing women career guidance, the chance to acquire technology skills and assistance in their job searches.

Another way in which Dress for Success supports women joining or returning to the workforce is through Steps to Success, an initiative that focuses on the crucial first 30 days of employment, during which newly-hired women face many potential challenges. Made possible by the generosity of the National Endowment for Financial Education, the Steps to Success: A Guide to Success in the Workplace publication helps women prepare for their new jobs, identifies barriers they might encounter during their first days, encourages them to plan for their futures and highlights resources that can assist them during this transition, including the Professional Women's Group.
Support Dress for Success
#17
The KAT 5 Animal Rescue Auction
.
KAT 5 is named after Hurricane Katrina ("KAT" for Katrina), and category 5 storms, symbolizing any disaster. KAT 5 Animal Rescue intervenes to protect animals when a natural or man-made disaster strikes.
#16
Knitting the World's Longest Scarf

Join in the fun of knitting the World's Longest Scarf while helping raise money to fight poverty around the world.

As part of the celebration of the International Year of Natural Fibres, Keep the Fleece in partnership with Heifer International is helping to organize teams around the world to knit sections of the World's Longest Scarf that will all be joined together at the New York Sheep & Wool Festival Oct. 17-18, 2009.

Our goal is to raise $250,000.00 that Heifer Intenational will use to donate fleece-bearing animals of all kinds to needy families all around the world. Heifer not only donates the animals, but provides the necessary training so that the families can nurture and grow their herds and become self-sufficient. (For more information about Heifer, please visit their website, www.heifer.org.

We ask everyone who participates to consider a donation of $1.00 per row knitted/crocheted or $10.00 per inch woven/felted. Keep the Fleece will collect the donations from the teams and pass it on to Heifer.

To get started, follow the links in the menu on the left, and if you have any questions, just click on "Contact Us."

Happy scarfing!
#15
Donate to Laura's March of Dimes
March for Babies
effort...in memory of baby Hans.
It's America's favorite walking event! When you walk, you give hope to the families of babies born too soon or sick. The money you raise supports programs in your community that help moms have healthy, full-term pregnancies. And it funds research to find answers to the serious problems that threaten our babies. We've been walking since 1970 and have raised an incredible $1.8 billion to benefit all babies.
#14
Handed down to me in some of my grandmother's sewing stuff were unopened packages of made in the USA Original Rockford Red Heel socks...the authentic sock monkey socks.
I was curious about Fox River Mills, the company who makes these socks. So I naturally Googled them (I actually used the Yahoo search, but I digress...). In cruising their website, I found this little gem and was inspired to make it my cause for this week.
Soldier's Wish List
.
You can send socks and a personalized note of support right here via our website. If you have a soldier you want to support, simply place an order via our website. If the shipping address is an APO or FPO, Fox River will cover the cost of shipping. (Choose Free Option).

If you would like to send socks to a soldier on our wish list, click here to browse the wishlist. You can order the quantity you choose from any wish list. Again, Fox River will cover shipping costs.
Socks that make a difference.
#13
Handed down to me in some of my grandmother's sewing stuff were unopened packages of made in the USA Original Rockford Red Heel socks...the authentic sock monkey socks.
I was curious about Fox River Mills, the company who makes these socks. So I naturally Googled them (I actually used the Yahoo search, but I digress...). In cruising their website, I found this little gem and was inspired to make it my cause for this week.
Soldier's Wish List
.
You can send socks and a personalized note of support right here via our website. If you have a soldier you want to support, simply place an order via our website. If the shipping address is an APO or FPO, Fox River will cover the cost of shipping. (Choose Free Option).

If you would like to send socks to a soldier on our wish list, click here to browse the wishlist. You can order the quantity you choose from any wish list. Again, Fox River will cover shipping costs.
Socks that make a difference.
#12
March 22-28
$1 can provide a child clean drinking water for 40 days
What is the Tap Project?
In 2007, the Tap Project was born in New York City based on a simple concept: restaurants would ask their patrons to donate $1 or more for the tap water they usually enjoy for free, and all funds raised would support UNICEF's efforts to bring clean and accessible water to millions of children around the world.
Growing from just 300 New York City restaurants in 2007 to over 2,300 across the country in 2008, the Tap Project has quickly grown into a national movement. Restaurants, corporations, volunteers, advertising agencies, community groups, local governments and everyday diners participated to save millions of children's lives.
During World Water Week, March 22-28, 2009, the Tap Project will once again raise vital donations and awareness for UNICEF's water and sanitation programs. For every dollar raised, a child will have clean drinking water for 40 days. All funds raised support UNICEF's efforts to bring clean and accessible water to millions of children around the world.
UNICEF's Role
UNICEF has saved more children's lives than any other humanitarian organization, and UNICEF is committed to doing whatever it takes to achieve the goal of reaching zero preventable deaths. Currently, UNICEF provides access to safe water and sanitation facilities while promoting safe hygiene practices in more than 90 countries. By 2015, UNICEF's goal is to reduce the number of people without safe water and basic sanitation by 50 percent.
#11
In honor of
Lucy and her amazing mama, Rachel
...
Each day, the staff of Cincinnati Children's brings hope and healing to sick and injured children. In every building, on every floor, miracles are happening.

You can make an impact in the life of a sick child simply by making a gift to Cincinnati Children's. In these uncertain economic times, there is no greater investment you can make than in the health of our children.
Click
here
to explore ways to give.
#10
This week I was involved in the pre-construction meeting for the development of a bike trail between two nice park areas along the Lake Erie shore. It will be a very nice project when completed that I will personally use. So along those lines, this week's charity is the
Trust for Public Land
.
The Trust for Public Land (TPL) is a national, nonprofit, land conservation organization that conserves land for people to enjoy as parks, community gardens, historic sites, rural lands, and other natural places, ensuring livable communities for generations to come.
Click
here
to explore ways to support TPL.
#9
This is for my friend,
Kristin
.
I know I don't REALLY have the power to take ownership of a day like this, but I hope you - and the universe - will forgive me for the taking the liberty of stealing away March 9th and asking if you'll consider engaging in a little random kindness that day.

March 9th, for those who don't know, is our son Thomas' birthday. This year would be his fourth.

In his obituary we asked if people would consider doing something good in his memory - no matter how small - because we thought he'd like that. A lot.

Every year since, we've asked people to keep up the wonderful and much appreciated good work by finding ways to make the world a little nicer, a little sweeter, and a little happier on his birthday.

Ripples into eternity, as they say.

It's impossible for your contribution to be too small. If all you do is make someone smile, that's enough. That's all we could ever ask for, in memory of our boy.

If you want to venture back here on the 9th and tell us what you did, we'd absolutely love to hear about it! If you want your act to be a secret, that's fine too.

As always, thank you so, so much.

We still remain in grateful awe of the unending circle of love and support.
Join the
Facebook group
.
#8
The Center for Grieving Children, Teens & Families
, Philadelphia, PA.
The Center provides a safe and caring place where children, teens and their families grieving a death can find the support to heal and grow through grief.

In addition, the Center provides educational and training programs to professionals and others who work with children and teens.
For all my crafty readers...
Quilts, afghans, prayer shawls or lapghans can be sent to:
Angels Embrace
Peggy Wicker
2408 Hamilton Ave
Roslyn, PA 19001
Blankets need to be at least 45" square or a little larger...any type is okay. For older children and teens, a good size would be throw size of 50"x60".
If you would like your "cuddleghan" donated in memory of someone special, please let Peggy know and she will attach that information to your blanket before sending it to the grief center.
#7
Good Cause Greetings
Good Cause Greetings is proud to support nonprofit organizations throughout the world through the sale of our unique line of holiday greeting cards. The purchase of Good Cause Greetings helps end hunger, provide housing, medical care and education for world citizens and improve the environment for people and animals worldwide. Click on a charity logo to be linked to the collection of cards supporting that particular organization.
Good Cause Greetings works to support charitable and nonprofit organizations that meet high standards set by the Better Business Bureau Wise Giving Alliance (www.give.org) or the requirements for 501c(3) nonprofit status.
#6
Valentine's Day Flowers from
OrganicBouquet.com
We've chosen to take the high road in everything we do, from our relationships with our partner artisans and growers to our adherence to rigorous U.S. and international sustainability standards. We obtain our products from companies who provide safe and just working conditions and a livable wage, and partner with artisans and farmers who re-invest in their communities and take pride in their craftsmanship. And in an effort to create online connections and community, we share their stories. All our products are produced without animal testing or cruelty and are either vegetarian or vegan. We're a member of CO-OP America, the premier green business network in the United States.
Our responsible commerce includes:
* Contributing a portion of our proceeds to charitable organizations dedicated to supporting social and environmental causes. To date, we have donated more than $250,000 to our charitable partners.
* Meeting the highest social and environmental product standards set forth by the following certifying agencies: USDA certified Organic, Veriflora certified sustainable, Demeter certified Biodynamic, Fair Trade, Smart Certified, and Green-e.
* Employing eco-friendly practices whenever possible, by using recycled, recyclable, tree-free, biodegradable, compostable, post-consumer, wild-crafted, and/or all-natural materials, printing with vegetable-based inks, and using carbon offsets, renewable or efficient energy, and minimal toxic chemicals.
At Organic Bouquet, you'll enjoy eco-luxury at eco-nomical prices. We want our environmentally and socially responsible products to be affordable for everyone. That's another way we're making a difference.
#5
Founded in 1987, United Animal Nations focuses on bringing animals out of crisis and into care through a variety of programs, including emergency animal sheltering and disaster relief services, financial assistance for urgent veterinary care and humane education.
They have four main programs...all of which are amazingly effective for a mainly volunteer organization.
Premarin Awareness Campaign-Educates women about hormone drugs made from pregnant mares' urine (PMU) and helps people adopt the mares and foals cast off from this industry who might otherwise be at risk for slaughter.
Emergency Animal Rescue Service-Shelters and cares for animals displaced by natural disasters and other crises, such as criminal seizures and hoarding cases, in the United States and Canada.
LifeLine Grants-Provides funding to Good Samaritans, animal rescuers, non-proft organizations and pet owners to help them care for animals in life-threatening situations.
Humane Education-Fosters compassion and empathy for animals and empowers people to make choices that improve animal lives.
Both of our mares are premarin rescues, so this organization holds a very special place in my heart.
At some point, Steve and I hope to get involved with the EARS program. We just have to wait for a training session to make it back to our neck of the woods.
Charity Navigator 3-Star charity
#4
"The greatest fear dogs know is the fear that you will not come back when you go out the door without them." -Stanley Coren
With the President and his family considering the adoption of a dog, I thought this would be a great week to highlight my very own
Animal Protective League
.
They generally operate at a financial loss, taking in homeless animals (and trying very hard to avoid euthanization by locating homes and rescues for them).
Money
and other donations are always welcome.
On behalf of all her friends still in the shelter, Daisy says, "Thank you."
#3
Nonviolent Peaceforce
Nonviolent Peaceforce (NP) is a nonpartisan unarmed peacekeeping force composed of trained civilians from around the world. In partnership with local groups, Nonviolent Peaceforce members apply proven nonviolent strategies to protect human rights, deter violence, and help create space for local peacemakers to carry out their work.
#2
Isn't It Amazing What One Woman and Her Friends Can Do...
I saw this phrase on
the Lucy bracelet
and immediately felt it appropriate for this blog.
Having lost one of her own children to the slave trade, Lucy Goode Brooks was especially concerned for the plight of black children left orphaned and abandoned by former owners.

Lucy convinced the Ladies Sewing Circle for Charitable Works, of which she was leader, that a home for orphans was a worthy project. They asked the Richmond-based Quaker Society of Friends for help, recognizing their humanitarian interest in the less fortunate and oppressed.

The Quakers agreed to sponsor the orphanage project and raised money in Virginia and the Northern states...

Over the years, FRIENDS has evolved from an orphanage to an adoption agency to providing foster care to becoming multi-service family centers, all the while remaining true to Lucy's vision. Through the power of the human spirit, the chains of bondage became chains of compassion that are still being felt generations later.
The Lucy bracelet is a beautiful, hand-made sterling silver cuff, easily adjustable to fit any wrist, that sells for $37.00.
-----------------------------------------
#1
My first week is devoted to what I have chosen as my $365 committment for this year...
UNICEF
.

Mosquito-borne malaria is the biggest single killer of children in Africa, where a child dies from malaria every 30 seconds. A simple mosquito net can decrease infection rates by 50 percent. Your purchase ($17.79) will provide three nets treated with long-lasting insect repellent to protect children from mosquitoes and other biting insects. The simple provision of mosquito nets, together with UNICEF awareness campaigns, can really save lives!
United States Fund for UNICEF is a Charity Navigator 4-star charity